Last week I was very sick. I am convinced it was something awful and I picked it up at the surgery center a couple of weeks ago. Combine my stand up and pass out activities with the unseasonably cold temperatures from last week, and it's safe to say I got nearly nothing accomplished past Tuesday.
Today I am on the mend. I don't sound so wonderful, but I have less of my deathly palor and am only feeling light-headed because it's a whopping 78 degrees in my office. Ugh!
Finally yesterday, in my pajamas for the second straight day, I started my final project for my drawing class. It's surprising that I do fairly decent work when I feel like garbage, but I actually got on track and started sailing. My proposal was accepted and I am doing a series of Olive in the styles of other artists. My plan is to start with these five artists; Van Gogh, Schiele, Auerbach, Chagall and Close. I am close to being finished with the Van Gogh (please note that cheap masking tape takes some of your masonite with it):
Based loosely on this self-portrait (I'm pleased with the complimentary color scheme and the nearly identical sideways glances):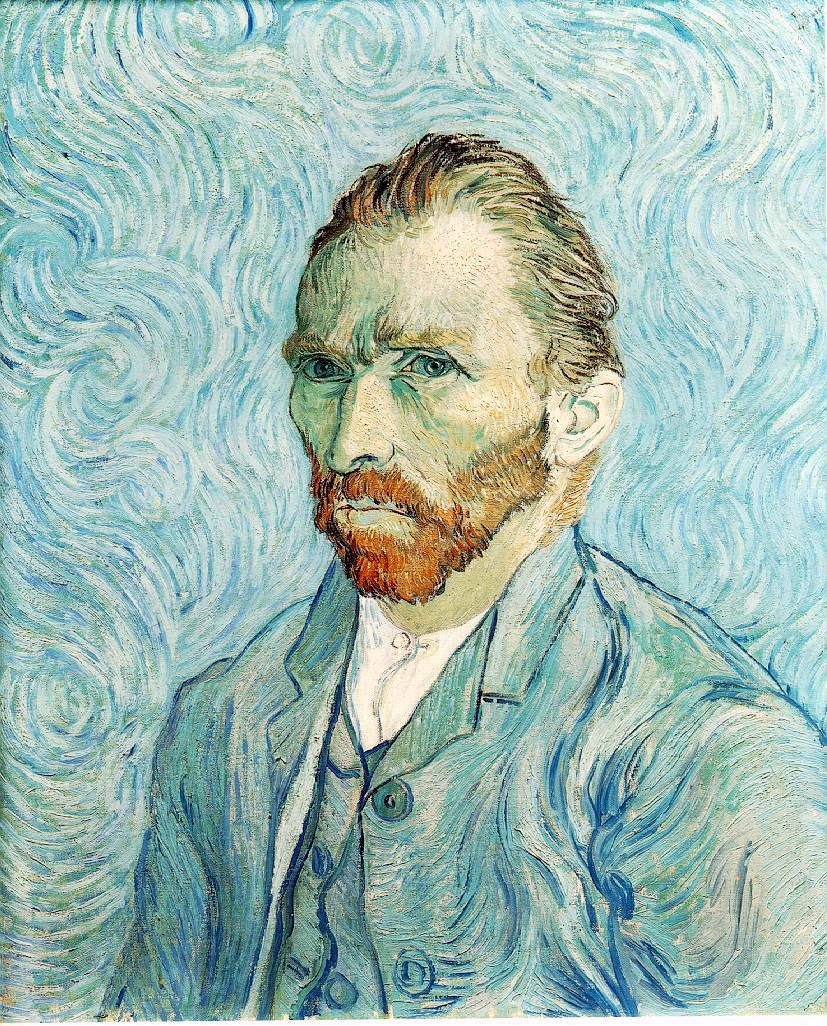 I started and discarded a version of Chagall. I'll get it right eventually, but my instincts were all off on this one. I have also started mapping out the Close, as it should be the most challenging of the group and I am going to get my instructor's advice on a change of medium. I have gotten to about 50% completion on a study for the Schiele piece, but need to complete a larger version.
All in all, not too bad for such a lost weekend. I also have at least one surprise to include, which I won't go into here. Suffice to say that it will be remniscent of a pop artist alive during my lifetime and involves some plastic you put in the oven... It's not my first use of the medium, but I am hoping it will provide at least a little (pun definitely intended) levity to my final portfolio review and critique. I do love surprises!
Saturday I watched the documentary, "The US vs. John Lennon." It was very interesting, especially considering that it happened in my lifetime, albeit before I had a political opinion, and it seems to be happening all over again in different ways with the Bush Administration. But I digress... that's a topic for another day.
Finally, on the subject of "In Progress," my nephew informed me yesterday that I will have a new niece or nephew in November. My sister-in-law is surprised - given that her two children will be 9 years apart - and excited, as am I. I am very happy to have the opportunity to get some baby projects going. It always feels like everyone I know is past babies, so this is very good news, indeed. My offer stands to take the baby directly home from the hospital and claim him or her as my own. I was informed that I might just get my wish, but that my nephew will certainly be included in the deal. Not a deterrent to me in the slightest.